When one hear the name Billie Eilish, the images of oversized clothing, bold patterns and slime green tones flash before our eyes. This singer is perhaps as well know for her signature style as she is for her music. Every time when she makes an appearance, we know we can expect to see something unique.
Billie Eilish fans have been marveling at her very cool sense of style ever since this singer skyrocketed to fam in 2017.
Her comfort and stylishly baggy clothes have fans trying to emulate her style. Apart from that Billie also have been photographed with really impressive nail designs in the recent years.
She has been seen attending events and performances wearing long acrylic nails with statement designs that match her outfits. Her nail designs have not become a huge talking point for fans, even those who are not familiar with the singer have probably seen her eye-catching nails.
Eilish's love for nail art is very obvious and whenever she is on the red carpet and stopped to be photographed, she made sure that her nails are a focal point. 
She talks with her hands, she sings with her hands, and she dances with her hands.
On Vanity Fair's March cover, Eilish's nails were a picture of simplicity and were like chrome fenders on a California hot rod. For those who would like to create the effect, first apply a base coat to the sculpted nails. Then use a sponge and dab on chrome powder and hand buff it until it began to gleam. Seal it with a high shine top coat.
In 2020, Billie swept the Grammys in head to fingertip Gucci. Do you remember those red nails with Gucci logo? To replicate that look, use cherry red shade polish or candy press on nails and stencil in the logo.
Nothing says Billie Eilish like her signature lime green color, from her hair to her outfits and nails. Billie combined her hair with her nail colors and the result is awesome.
If you have colored hair, you can combine the nail color with your hair for an outstanding look that will surely turn heads.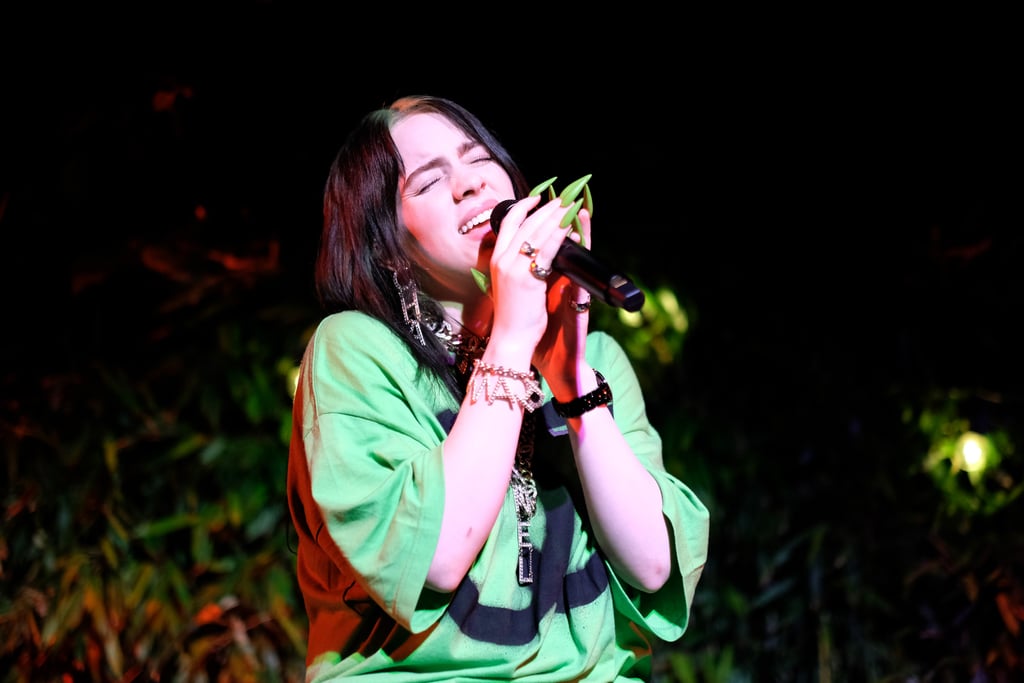 When Billie Eilish steps onto the red carpet for an award show, she goes all out. This 19 year old singer is a big Gucci fan and during the Grammy Award this year, she wore a pink and black floral Gucci outfit and proudly showed off her trophies on the red carpet.
She stole the spotlight again with her signature nail art that feature a black, grey and rose pink gothic floral manicure that perfectly coordinated with her outfit.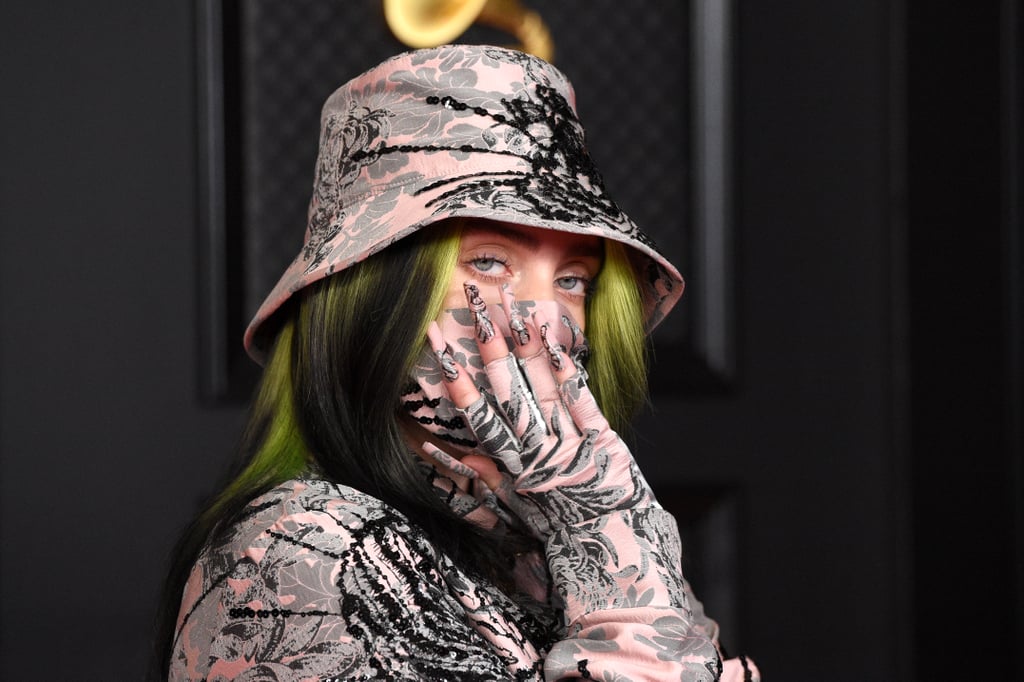 Adding to this top to toe floral ensemble, Eilish highlighted her nail art with a pair of fingerless gloves that also perfectly matched her oversized outfit and bucket hat.
The most fancy style for nails are those with some precious stones over them. For the Oscar awards, Billie chose to paint her nails in black but added a little gem on them. The result just screamed classy!