Cheery lips are the Korean beauty trend brought to the Western world by influencers and media. The name of the trend is the reference to the cherry-like shape and plumpness the lips get after they are filled with hyaluronic acid by a professional cosmetologist. This special technique "opens up" the bottom and top lips like petals, filling the middle parts of the lips.
Instead of turning the lips into the two massive, over-plumed pillows, the mouth looks like adorable, juicy cherry berries. Of course, you won't get the same effect just with a pencil and lipstick, but there are cherries-colored lip glazes that we recommend you to try and turn your lips into two sugar cherries.
Maraschino Cherry Lip Gloss
The first product we are going to recommend is this wonderful Maraschino Cherry Lip Gloss by Lime Crime. Line your lips with a matte, nude pencil and apply a few coats of this wet lip gloss over your top and bottom lips. Your lips will truly look like ripe chairs, glazed with sugar syrup.
Cherry Shine Lip Balm Nivea
Nivea is one of the most popular drugstore brands, that produces a whole bunch of good-quality and affordable skincare products. Cherry Shine Lip Balm by Nivea features shimmering particles and natural avocado and jojoba oils. It both hydrates, cares, and enhances your lips, making them look like berries.
Lancôme Juicy Tubes
A genuinely iconic lip product, which looks like a liquid juice in a tube. It does not only makes your lips full and shiny but guarantees lasting hydration. Thanks to the special, nourishing formula with Vitamin E, your lips are going to feel soft and lusciously juicy, and you can forget about the uncomfortable dry feeling.
Tonymoly Mini Berry Lip Balm
No, this isn't a real-life cherry freshly-picked from the garden, this tiny little beauty is Tony Moly's lip balm, carefully packed into the cherry-like packaging. This gem can turn even the dries skin on the lips into something soft and healthy. Apply this cherry lip balm on your lips for a natural, dewy finish.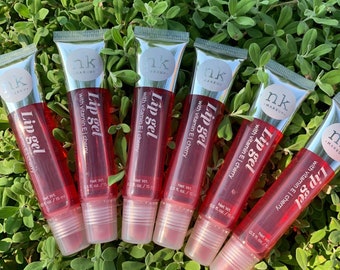 NK Chery Lip Gloss
Looking for a truly reflecting finish? Then you have to try these cherry lip glosses by NK cosmetics. The non-sticky, yet thick formula glides on the lips like a charm, and cherry-scent boost up the mood, making the day better. The finish of NK's lightweight lip gloss isn't going to be opaque, but you will love its sheer, natural veil on your lips.