It is getting closer to being warm enough to start thinking about keeping those boots away. After a year of staying home to practice social distancing or working from home, many of us are definitely hoping to be able to step back out into the world and into our shoes. For Spring 2021, it is all about comfort when it comes to shoe trends. The focus will still be low heels and styles that allow us to walk a mile in or just wear around the house.
There are plenty of flats, sneakers, sandals and boots as well as a few heels that are going to be trending this season so you should find something to suit your style. Below are some of the styles that will be dominating the scenes. Do you have any in your shoe closet or looking at treating yourself a new pair of shoes?
Woven Shoes
There are lots of woven and macramé like shoes spotted on the runways for Spring/Summer 2021. The sturdy Roman gladiator sandals are witnessing a resurgence. Weave materials like cotton twill and rope in perfect spring look will definitely get you all roped in.
Outfit To Match – They look super chic and effortless while peeking out underneath a flowy maxi skirt or your favorite pair of jeans for swift errand runs.
Gearing Up For Outdoors
If your childhood consist of wearing Tevas, Birks and The Reefs, then you will be glad to know that the sports sandal trend back and stronger than ever. Comfort is the focus with these styles on runways. These are the shoes that you can walk in without getting any blisters.
Outfit to match – These open-toed sandals can be paired with jeans, shorts and even dresses. Although the sandals are a summer item is also possible to pair them with socks once the cooler weather settles in.
Ballet Flats
Timeless and chic, ballet flats are back and for this Spring/Summer, you can dance for joy. Slide into the minimalist ballerina flat and you will feel like you are walking on clouds.
Outfit to match – Ballerinas look great on the pants to the ankle. Channel your inner French girl by pairing the ballet flats with wide-legged pants, denim or maxi dresses.
Flatforms
The much loved 70s trend – flatforms have been showing up on runways from New York to Milan. You can spot them in animal prints and a summer favorite of raffia and cork. Flatforms are great to add some height without wearing heels. It is time to breathe in a fresh look to your shoe closet and give a chance to this chunky shoe trend that is moving full speed ahead. With so many styles, colors, textures and even heights available, you are bound to find one that suits your personal aesthetic best.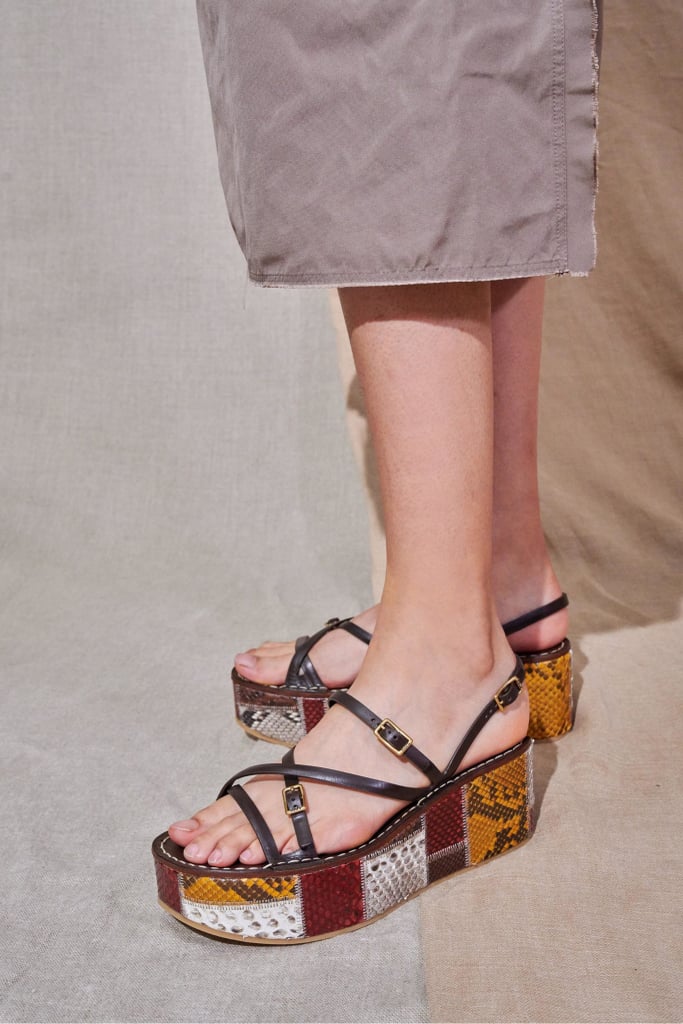 Outfits To Match – These statement making shoes are highly versatile. They look very stylish with jeans, wide-leg pants, and with your summer dresses.
The Clog
The clogs are a retro staple that one would either love or hate. It offers a sleek and chic takes of the vintage style. This chunky clunky shoe has low heels and it can be a shoe that you would wear everyday.
Outfit to Match – This delightfully retro shoe can be styled with everything from corduroy skirts, flare jeans to bohemian dresses. You can even wear these with jeans and a white shirt.