How to dress in the perfect vintage style is a question every fashionista asks herself. Because it is true, to wear a classic vintage clothing is an art, the art that needs to be mastered with time and passion.
You will find some very helpful and reliable clothing tips given below that will bring you closer to achieving the perfect and the dreamiest vintage clothing that you have always wanted.
Get your paper and pencils out because these tips need to remembered the next time you step out of the house you will be receiving a lot of compliments of your outfit.
To be a pro and vintage styling there are some necessary pieces of clothing that you must always have in your wardrobe.
High Waist Bell bottom denim jeans
This is the fashion of denim that has come back from vintage and we can clearly see why it is still considered as fashion.
Plaid dresses
One great thing about plaid is that they can come in so many different colors and patterns that one can never have enough of outfits. Plaid dresses are among them.

Lace Blouses and Flower earrings
Blouses were a major hit back then but vintage fashion is incomplete without lace blouses. Cute flower earrings are a beautiful combination to style with such pretty blouses.
Over-sized sweatshirts
These sweatshirts will remind you a lot of Chandler Bing from the famous show 'Friends' but that's why it remains a vintage fashion till today. Pairing up these over-sized sweatshirts with a straight loose denim makes it the iconic duo!
Wearing a belt
A plain or printed white Tee goes really well with high waist denims. But if you would like to give the outfit the perfect vintage touch just add a belt to it, we promise you it will bring a big difference.
Polka Dots
The ultimate fashion of polka dots belongs to the late 60's and 70's. Every celebrity from that era can be seen wearing polka dots and that is why you will find vintage fashion involving many clothing items with stylish polka dots. Also, notice how cute the belt and high waist denims look?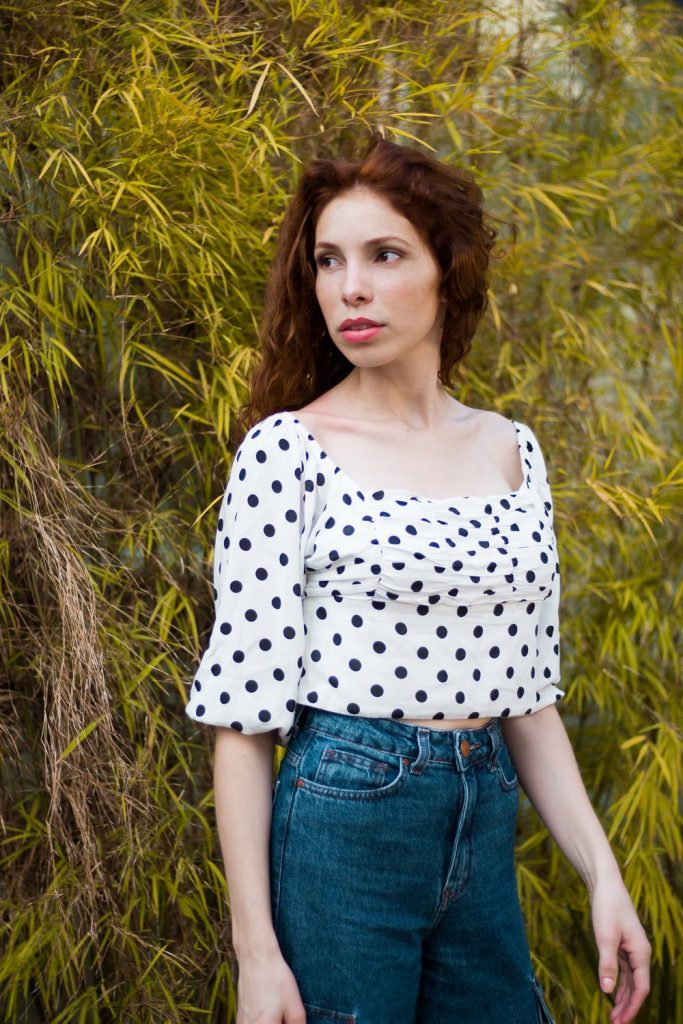 Square necked ruffled tops
These tops are known for their square collar designs that is perfect for ladies who want to flaunt their beautiful collar bones. The ruffled sleeves are the finest vintage addition that could be made into the blouse.
Baggy T-shirts with wide sleeves
If we were asked what is the classic cute girl from the neighborhood vintage outfit, then we would it has to be this one. Just take a look at it and you'll know what it means.
Geometric and colorful
An outfit that is both geometric and filled with bright colors has to belong in the vintage fashion column. A loose blouse matched with a washed off jeans look so much better when paired together. Want fashions tips to match well? You can click here https://www.bnsds.com/2021/09/21/fall-denim-trends-you-will-be-seeing-everywhere/