No. 20, Shanghai is already a sleepless night, the big show's high-profile has ended. Of course, the friends who are not on the scene should not be disappointed. In November 29th, we can see the full version of the video.
This year's show for the first time to China, plus Liu Wen, He Sui, Xi Mengyao, Ju Xiaowen, Xie Xin, Wang Yi and the Chinese model Chen Yu, 7 members. At the same time on the stage of Chinese's, it is of extraordinary significance.
From Gigi Hadid was refused, Xi Mengyao fell, veteran Alessandra Ambrosio finally to show, the much anticipated "programmer" KK regression, this year's show is the most one topic. But what Xiao Bian cares most about is "Fantasy Bra" and the person who chooses it.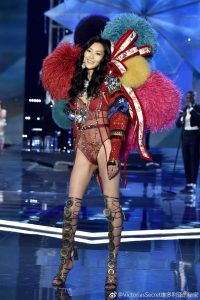 When it comes to "Fantasy Bra", it can be a luxury every year. This year's high priced corset style bra was named "Champagne Nights", which was designed by Swiss jewelry brand Mouaward, and took 350 hours.
This "champagne" Fantasy Bra with 18K gold hand inlaid nearly 6000 white diamonds, yellow sapphire and blue topaz, more than 640 carat weight, the value of 13 million 280 thousand yuan.
What is a perfect interpretation of the Victoria's Secret Angels to how this charming "Fantasy Bra"? Les Ribeiro (Lais Ribeiro), a 9 year old boy from Brazil city's mother, became the most watched show in 2017's "Fantasy Bra" interpretation.
Why is she? Is this year's really pick a good model you, want to let a 9 year old mother to the interpretation of the "Fantasy Bra"? Perhaps, when you understand Les Ribeiro's inspirational and gorgeous life, you will understand why she is!
Les Ribeiro, born in a small city in Brazil in 1990, has sexy wheat color and charming flaxen hair color.
The height of 180cm she is very perfect figure, a pair of long legs against more provocative, or static or dynamic, or charm or wild, has her unique beauty.
She was born T model, but she didn't realize that she was shy, introverted and lack of confidence, and thought that high and thin was not the definition of pretty sexy.
Until one of her model friends in the town encouraged her, she suggested that she try the model career, and she summoned the courage to participate in the interview, and took a little show in her hometown. Finally, in 2009, she took part in the contest was scouted, began his occupation career.
At that time, Les Ribeiro was 19 years old, in the model is relatively late debut, but her debut is open mode.
Not only participated in CHANEL, LV, Gucci, D&G and other big, major fashion show, boarded the Vogue, ELLE, Harper's, Bazaar and other major magazines, still second years after his debut was on many models, and not for years throughout the stage.