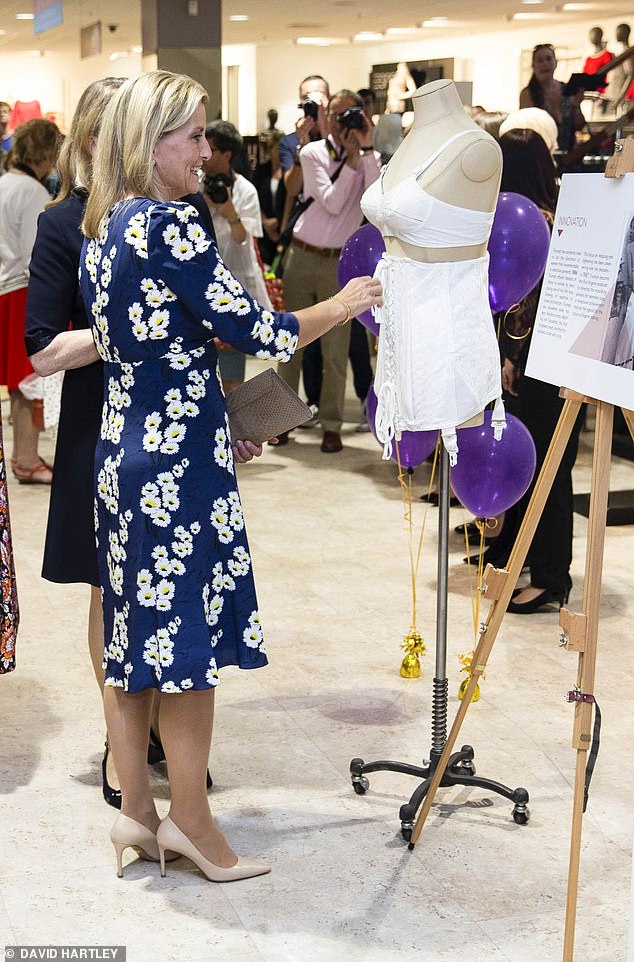 The Countess of Wessex is in Windsor today, but she does not visit the famous name of her luxurious mother-in-law.
Instead, the 53-year-old Sophie is helping the historic department store Daniels celebrate his 100th birthday – visit the lingerie show.
Sophie enjoyed the finish line at a famous store just a short walk from Windsor Castle, and saw a vintage bra and corset in the lingerie department.
The mother of the two children came to the tour wearing one of her favorite costumes, a daisy detail designed by designer Suzannah.
Sophie loosened in a gold-colored lock and finished the look with a pair of nude-colored high heels and a taupe clutch.
To celebrate the store's milestones, local schoolchildren from the Windsor Boys School and the Windsor Girls' School performed for the countess, and she unveiled the commemorative plaque to commemorate the birthday.
The store was originally founded by Walter James Daniel in Ealing in 1901. His son, Charles, bought a sister shop in Windsor in 1918 and worked with his brother Mabel.
The property is located at 120 Peascod Street, renting only £150 a year and soon becoming a high-end department store.
Earlier today, it was announced that the countess would travel to Isle of Wight on Thursday to name the new ferry and visit Liz Earle Cosmetics.
Lord Lt on the island, Major General Martin White said: "I am very happy to welcome His Royal Highness back to the island, both of which are Wightlink's White Victoria, and it is important to support important aspects of our charity and business sectors.
The Isle of Wight Council Chairman Cllr Lora Peacey-Wilcox said: "The Countess of Wessex will warmly welcome back to our island. Thanks a lot for her knowledge, interest and care for nature.