Nail art is not new in the tradition of women's fashion. Nail art is used to make your nails look stunning and as a form of self-expression of a woman to become more fashionable, look modern and attract attention. The nail art applications can increase self-confidence and add the beauty to your nails with a combination of various colors.
Nowadays nail arts are not only used for special occasions such as weddings, even in everyday life you can make your nails beautiful with nail arts. More interesting, you can easily buy equipments for making nail arts at various stores. So, you can be creative to make your own nail arts at home!
Here are 6 flower-themed nail art inspirations that you should try to make your nails look fancy and attractive!
1. Simple – Cute Floral Nail Arts For Summer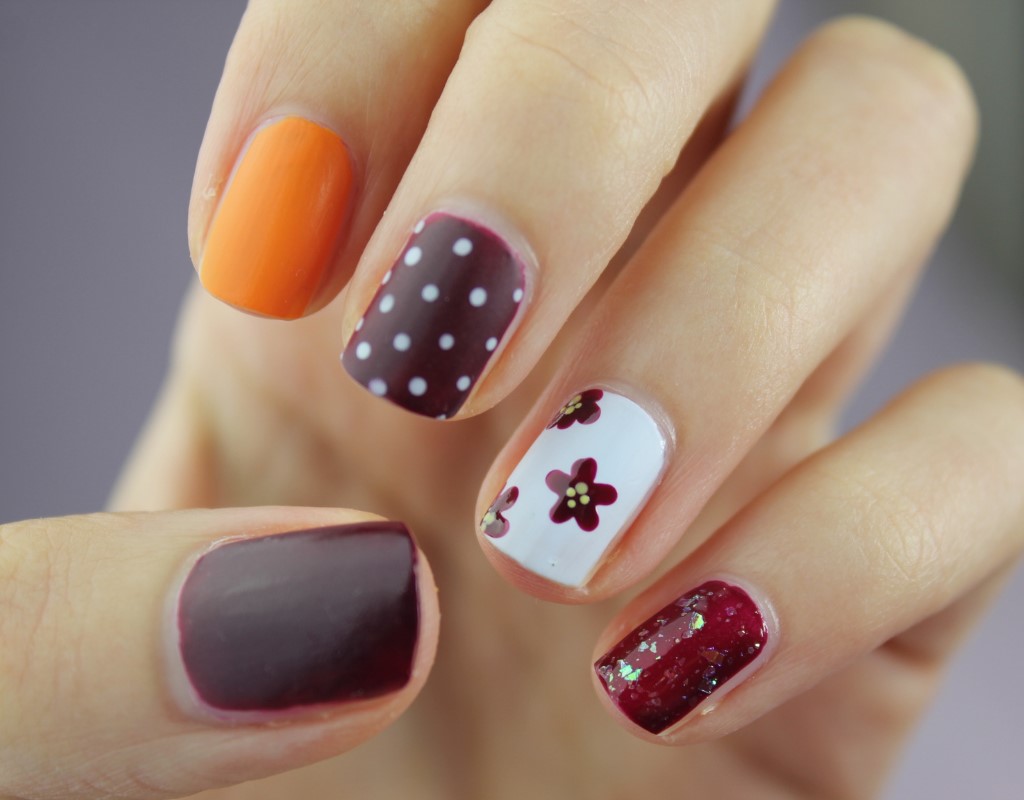 Are you a beginner in nail decoration? It doesn't matter. With this simple nail art decoration you can make your nails stand out more for this summer.
Try combining burgundy, orange and white nail polish. You can draw a simple floral pattern to bring out the cheerful summer vibes. Add polka dot pattern that will make your nails even cuter. This polka dot pattern is very easy to do even for beginners, but the result will look pretty on the nails. You can also add glittery nail polish to make your nails look shiny. Don't forget to add a top coat so that your nail art looks smooth and long lasting.
2. White French Tip With Blue Flowers
This nail art is also suitable for you to try this summer. If you don't like bright nail polish colors, you can try this classic manicure with a simple, but still beautiful, blue floral design. Please note, blue is one of the popular color trends for this summer. By combining blue and white, it will make your nails look fresh.
3. Fancy Flowers Nail Art With Matte Finish
Matte nail polish designs have been in a lot of hype in recent years. Nail art with a matte finish can still give a luxurious and classy impression. This matte design is perfect for those of you who don't like shiny and complicated nail art. Even the soft mint grayish color that seems gloomy at first glance, can be more fancy with the addition of floral accents and small beads at the corners of the nails.
4. Stunning Flower Painting Nail Art
You can turn your nails into a mini canvas for creativity. Paint pictures of beautiful flowers on the corners of your nails and add leaves painting too. The combination of soft pink with various colors in your flower decorations will look sweet and fresh. Wouldn't this design look perfect for spring and summer? You have to try!
5. 3D Cherry Blossoms Nail Art
You can experiment with a real embossed effect on your nails. The embossed effect to create 3D nail art is obtained by using acrylic liquid for nails. You can make cute designs with acrylic directly on your nails, or make them on the surface of aluminum foil and then stick them on your nails. The fun thing is, you can not only experiment with colors, 3D nail art also allows you to be creative with various attractive and beautiful designs. Try this pretty cherry blossom design. Soft pink gradations with embossed flower petals will look sweet and adorable!
6. Elegant Floral Nail Art With Diamonds
The natural beauty of flowers, has a strong charisma towards women. It's no wonder that many women like floral designs for their nail arts. Flower nail art designs are also very popular for weddings because they will make your nails look not only beautiful but also elegant. To give a classy and luxurious impression, you can add small diamonds to decorate your nails, like in this nail art design. Although the design is quite simple, the addition of diamond details makes the final result look stunning.
Not only outfits, nail arts can make your appearance more adorable as well. You can make your own nail arts or go to a nail salon for professional services. So, are you interested to try? Which design is your favourite?