Feeling difficult and tricky how to choose or find out the best lace-up dresses? Most women did! So in this article, I wanna share tips and tricks on how to find lace-up dresses for girls.
The lace-up dress becomes a popular fashion nowadays as it has a cute style and enhances women's appearance in an instant way. The lace-up dresses that give a refreshing impression are also perfect for a summer outfit. They have been attracting attention to showing off healthy skin appearance and of course, it become a trend among women.
1. Lace up bodycon dress for sexy look
Show off your great body shape by wearing this laxe up stripped bodycon dress. The dress is featuring a white pinstripe material with a lace-up bust which gives you an instant sexy and attractive look. Style it with strappy heels and minimal accessories to complete the look.
Getting all eyes on you just by wearing this backless lace up dress. The dress is featuring a black material with a tropical leaf print, a plunging neckline and a bodycon fit that will make you look more gorgeous and sexy. For perfect look ,you can style this with tie up heels and statement accessories.

2.Lace up mini dresses for cute look
All women will absolutely adore the floral print and the style of this dress. The print, fabric and style are super adorable. It will extremely fit for girls wether you have tall or petite body. Not only can create a trendy outfit just by wearing it, but you'll have a refreshing and cute look.
Backless lace up dress style makes you more glamorous and adds a sense of sexiness as well. It instantly makes you look cute elegant and classy at same time with this mini dress. It absolutely helps you show your unique charm and cute side. Pair this dress with lace up heels and fancy bag for attending a formal occasion.

3. Lace up pattern dress for chic look.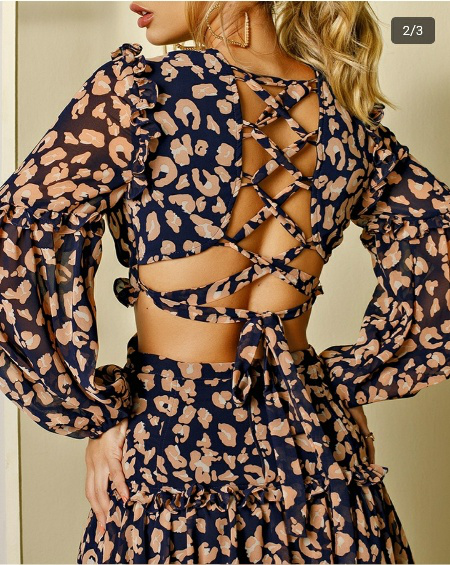 It is a super flattering lace up dress which can create a mature and chic look by wearing it. The material that fits nicely will not only make the body line look beautiful, but also give the whole body great impression and more appealing. It tends to look sweet, but if you choose this backless lace up dress with cheetah print like this, it will look mature and chic. It best to wear black lace up heels to be paired with this dress.