It may still be winter, but if you are dreaming about warmer weather and wondering what is the latest 2021 swimwear trend and how to select a swimwear color that is flattering, well don't worry.  Finding the perfect swimwear is tough.   With so many styles and brands to choose from (let alone figuring out the right tone), shopping for your ideal bathing suit can feel daunting.   You can stay ahead of the trend by scrolling down and read the tips on how to identify your skin tone and find the best swimwear colors to suit you.
Tip 1 – How To Identify Your Skin Tone
The first step is to check what is your skin tone.
Summer Skin Tones:
Light complexion
Tend not to tan well
Look good in pastel shades
Winter Skin Tones:
Can be either light or dark skinned
May have an unusual or distinctive look
Look fabulous in black
Spring Skin Tones:
Complexion is an underlying yellow or gold skin tone
Have a tendency to blush and or have rosy cheeks
Fair skinned
Could also have dark skin that tans well
Autumn Skin Tones:
Do not have rosy cheek
Have a gold undertones in their skin
Have bronze appearance on the complexion
Do not look well in black
Dark Skin Tones:
Are of African, West Indian, Asian, Oriental, or Latin descent
May be able to wear darker shades of colors
Tip 2 – Swimsuit Colors That Suit Your Skin
Since you already have an idea what your skin tone is, it is time to find out what swimsuit colors suit you and will look the best.
Best swimsuit colors for fair skin
If you have fair skin and your natural hair color is blonde or light brown, you can play with contrasts to emphasize your skin complexion. You can pick dark color swimwear like red, emerald green, brown or dark purple no matter if it is a bikini or a one-piece. You may want to try coral or pink when you get yourself some sun tan. The colors to avoid is nude colors and also white, yellow and orange which would make your skin look pale. Flashy and fluorescent colors are a big no no too because they make your skin look a little pink or red.
Best swimwear colors for light and gold skin
If your skin is light, gold or olive and your natural hair is light brown or brunette then go for darker colors. You will look great in cold and warm colors such as black or navy blue. Once you have a summer tan, you can actually wear almost everything that is lively and vibrant, and even white. Before you get a tan, do avoid yellow shades.
Best swimwear colors for dark skin
For matt or dark skin tone and your hair is brown, dark brown or black, you look good in all colors even before you get a tan. Do choose colors that highlight your skin tone such as white or yellow. Also good are swimsuits with contrasts and also bright colors. Intense hues such as red, orange or blue will also match.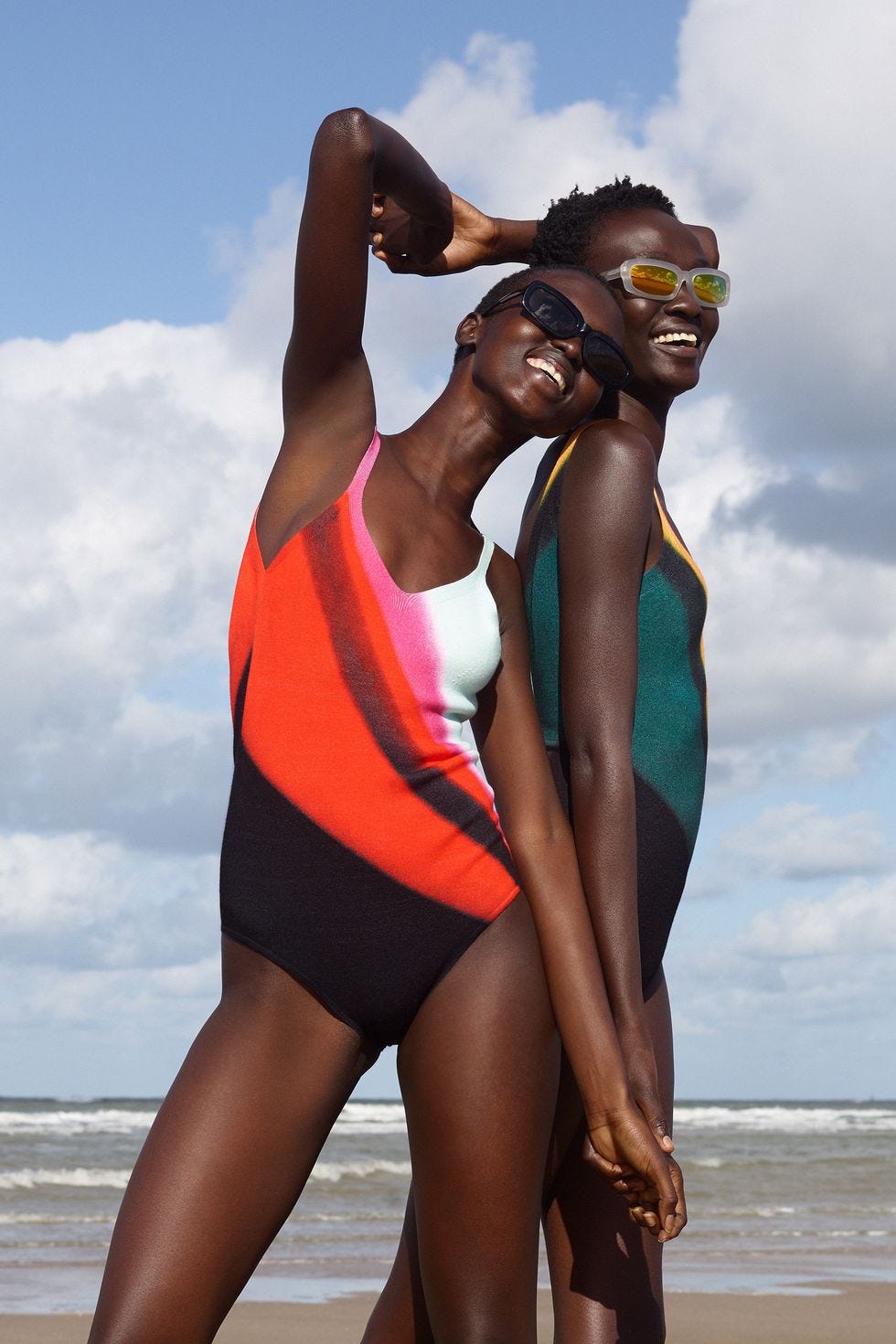 Tip 3 – Use A Color Wheel
The colour wheel is great for helping you put colour combinations together that compliment your skin tone. Complimentary colors are directly opposite each other on the color wheel. For trendy style in swimwear, you can mix and match top and bottom as well as coordinating with jewelry.
Choosing swimwear that compliment your skin tone can really make you feel great on your holiday! So get ready and start shopping for the right swimsuit so that when the warm weather season arrives, you will be all set.