Welcome to our blog! It is time for a new fashion article and we are happy to say that today's article is going to be about sweaters and how to wear those sweaters with outerwear. Do you girls seem interested? Than keep on reading.
Choosing a sweater seem like a choice that everyone eventually has to make because let's face it we all love wearing sweaters ( or is better to say ) that we all wear them and maybe there are few of those who do not particularly enjoy that ).
When you decide to buy sweater there are a couple of things to decide – which color do you prefer, is it going to be a pullover, cardigan or a turtleneck, which fabrics do you prefer and so on.
When we are talking about outerwear coats are always a good option ( the most fashionable option ). There is also a huge trend right now and those would be puffer jackets. People started appreciating comfort more and that can be related to covid pandemic or it is better to say that it is a consequence of covid ( because people spend more time at home and don't go to a lot of formal occasions ).
Here are some of the sweaters and outerwear which we have found online:
Mango Buttoned striped sweater – Almost everyone has something striped and this sweater seems like a great option if you are not amongst those who own striped items in their closet. Plus look at those gorgeous button details.
Mango oversized knit sweater – This is a classic sweater that everyone has to have.
Massimo Dutti Black nappa leather quilted jacket – This is an interesting quilted jacket perfect for an all black look. Just imagine wearing it with black mini sweater dress, tights and chunky boots.
Massimo Dutti Black leather down jacket – Here is one of the most popular models of outerwear this season – puffer jacket. It will make sure you are warm and stylish.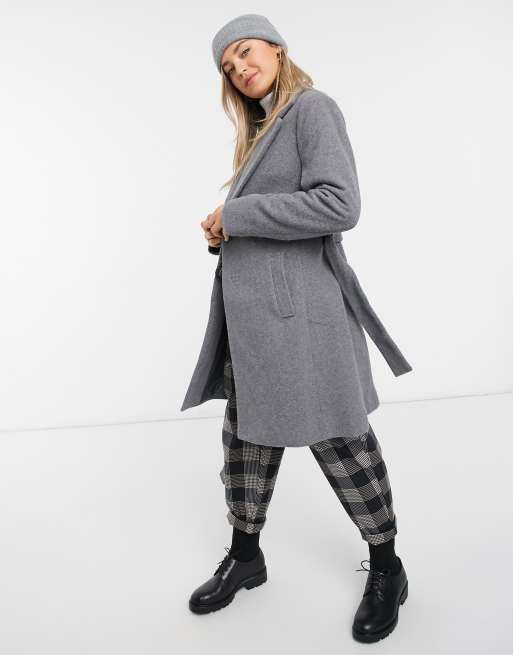 Asos – New Look belted formal coat in grey – combine this classic grey coat with previously mentioned grey sweater and you are ready to rock that monochrome look.
We hope that we inspired you a bit with our choices and we are looking forward to hear your opinion.