I love striped clothes! They make us look like super fashionable sailors and are a must-have in summer since they also are super light. Another point in their favor is that they practically never go out of style: if I asked my grandmother which was one of the biggest fashion trends of her time, I'm sure she will answer 100% "striped clothes"! But let me give you some outfit ideas wearing striped clothing, trying to make a small excursus on the pros and cons when we use stripes and trying to understand what to watch out for when wearing it!
Be careful with pants
Pros Vertical stripe pants are definitely very nice to be seen, and above all, the slim our figure by giving the impression of being taller!
Cons I would absolutely avoid the pants whose stripes go around our legs, I found them quite unaesthetic and not good looking. Only vertical stripes are accepted!
It is fine too if we eventually decide to opt for diagonal stripes, that gives us that delicate and lovely geometric touch!
Jeans, t-shirt, and jacket: yes, but which jacket?
Pros It is a typical outfit when we have to go out and are in a hurry. We don't know what to wear but we do know that what we need is a particular jacket. Let's say yes to leather and denim jackets!
Cons Let's absolutely avoid vest jackets: the Michelin Man effect is very unsightly!
It is fine too if we wear a cropped jacket or leopard faux fur coat, especially if it's colder.
If you wear stripes on top don't wear on bottom and vice versa
Pros We will not fall into any trap because the combination is simply perfect and has to remain simple, as simple as the stripes.
Cons Stripes must be worn only on one single garment of our outfit, and we don't have to overdo with them. Choose between a striped skirt and a striped top, never choose to wear both!
It is fine too if we wear co-words, a great solution if we cannot say no to a total striped look since tops and bottoms are perfectly combined in two pieces.
Dresses
Pros They look pretty and can be worn very easily without precautions: they already are super unique!
Cons According to our body form, let's prefer certain types of dresses. Stripes tend to make us look fat. Let's go then for a large dress rather than a tight-fitting one: our forms will be less noticed and the effect will be less noticeable!
It is fine too if we add a matched belt that blends well with the dress, bag, and shoes!
Shirt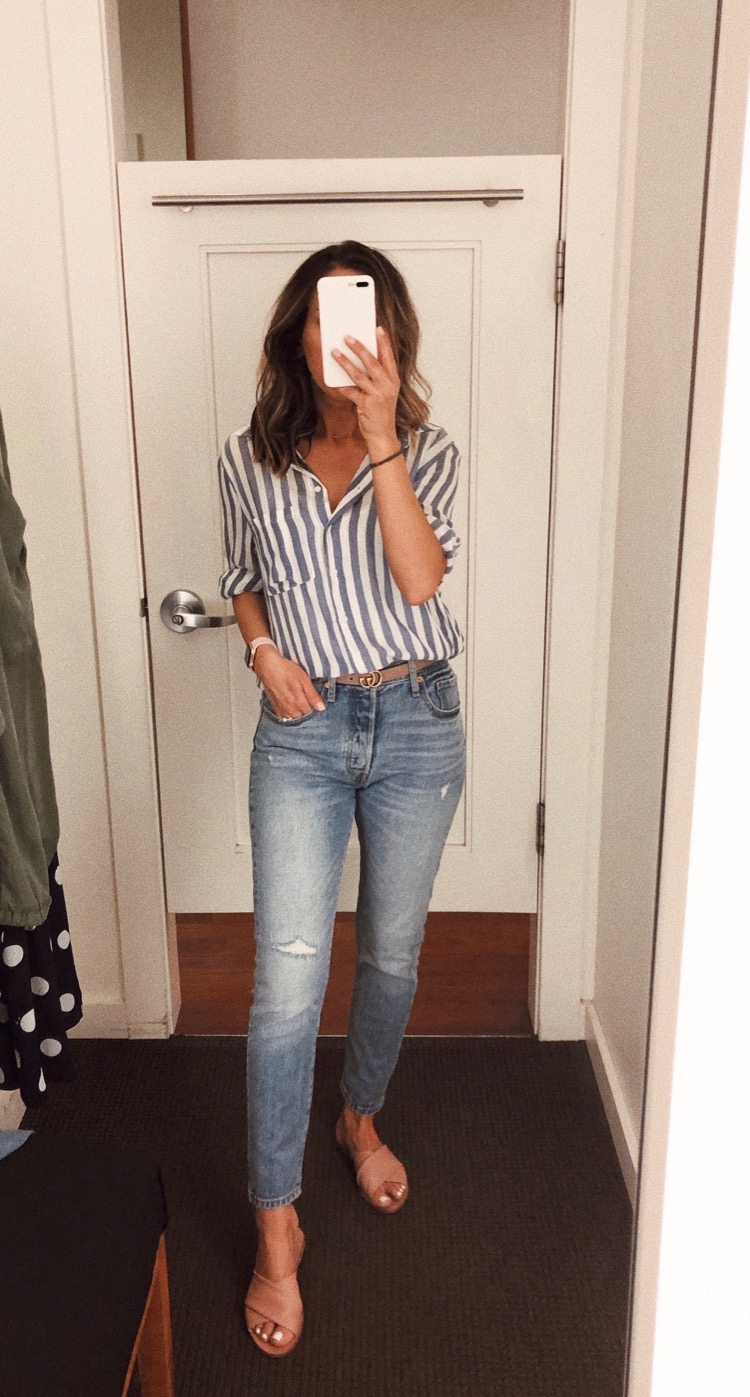 Pros A classic style, often worn at work. A striped shirt increases our professional look, ideal to combine with monochrome pants.
Cons We need to be wary of the bra, as in all types of shirts, and please, no eccentric pants!
It is fine too if we wear jeans and heels. I love this super sexy style!