Off-the-shoulder shirts and dresses are some of the most feminine clothing pieces every lady can have. They can show off your beautiful collarbones making you look innocently beautiful yet sultry. The excellent thing about this is they can be purchased almost anywhere as most brands and clothing stores carry these in different colors, styles, and price ranges. Choosing one that fits your style and budget is not difficult.
Here are some of the most beautiful and pleasantly pretty off-the-shoulder outfits you can take inspiration from:
Off-the-Shoulder Playsuits
An off-the-shoulder playsuit is a cute way to amp up your daily style. Pair this with white sneakers or wedges. You can also add a cute slim belt or statement jewelry to complete the look.
Off-the-Shoulder Blouse
Using off-the-Shoulder Blouse is a dressier way of wearing this type of clothing. You can simply wear a pair of colored slacks or black high-waisted jeans and a pair of sandals or heels. Layering this with a blazer or leather jacket is also an excellent idea especially if it becomes a bit cold in the night.
Floral Maxi Dress
An off-the-shoulder maxi dress is great for spring and summer. You can simply wear a pair of sandals with long lace sandals or wedges. Accessorizing with a pair of feather earrings or tassels, and a simple necklace will look good on this type of dress. You can also complement the maxi dress with a boho hairstyle.
Fold over Off-the-Shoulder Top
A cute off-the-shoulder top is one with foldover. It`s perfect for spring, summer, and fall. For summer, you can pair it with ¾ pants or a plain layered skirt. Accessorizing this type of clothing item is quite easy. Making sure that you use a statement necklace will top off the entire look.
Floral Off-the-Shoulder Jumpsuit
A floral off-the-shoulder jumpsuit looks elegant and exquisite. Having one in your wardrobe will save you from lazy days or days when you don`t know what to exactly wear for a more Formal meet-up.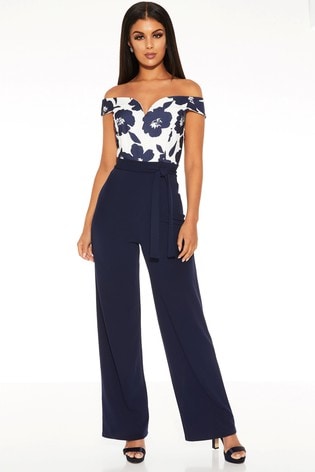 Off-the-shoulder shirts and dresses come in a variety of styles so you will barely lose any ideas of how to wear them. From casual and basic to preppy and formal, accessorizing them appropriately will make a huge difference.