Plus size women often think that they don't have enough options in clothing to wear but nowadays that's not the case as plenty of outfits are available for them but they should know how to style themselves properly. Plus size women clothings are now available on every fashion store and online too so you can easily avail them. There are different designs and pattern and you can wear them for your office.
Business suits: It is perfect for them because it is right tailored and just fitted to their body. They can choose the suits that have minimal design and pattern instead of going simple because if it just a plain suit it will make them look boring. It can help them to hide their extra inches of their body.
Pencil skirts: Wearing a pencil skirt can make you look sexy and admiring. It is a feminine way to showcase your figure thus it look fabulous on plus size women. This skirt ends just above their knees and you can wear it with a silk shirt by tucking it inside that will give you an overall professional look.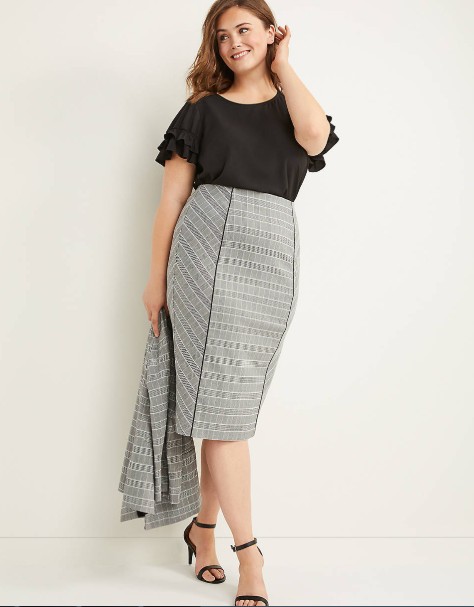 https://www.lanebryant.com/plaid-midi-pencil-skirt/prd-356619#color/0000091875
White shirt dresses: If you wear a white shirt dress for your office then it will give a sculpted look. You will have to choose the fabric that should be thick and of high quality because it will help you to hide the extra slabs of your body. You can make it more stylish by wearing a striped pattern full sleeve blazer. You can also wear a necklace that may suit that outfit.
A-line dress: If you are tired of wearing loose dress the a-line dress is the best option for you because it just change your body and your entire look. Wearing a bold color a-line dress of different pattern and style gives a fabulous look and increases your confidence.
Long tops: It is the best way to hide your stomach fat. If you are wearing a loose long top then you can wear a thin belt at the mid of your top that is just below the breast line which will help you to look slim.