Before your big day, the time you spend with your tribe to get ready for the wedding is something to be cherished forever. It is the time to connect with your best friends and get pampered. Wearing matching bridal robes with them is a cute way to bond. Plus, they make a great keepsake that will remind your bridal party of your special day. Wearing coordinating robes is also a good photo-worthy occasion.
There are many cozy wedding robes that will make sitting through hours of makeup and hair easier. Also, these robes are easy to put on and take off so you don't have to worry about messing up your look. You can also pack it for your wedding night or bring it along to your honeymoon.
Below are some of the softest and most comfortable bridal robes to get ready in. No matter it is lace, silk, floral or plain, minimalist or personalized, you will definitely feel photo-ready in one of these trendy picks.
Floral Garden Robe
This stylish peony bridal robe is perfect for anyone who loves florals. The pink peony pattern is absolutely cute. Made of 100% cotton velour, it is irresistibly soft. You will feel cozy and relaxed as soon as you slip it on
Bridal Robe With Feather Sleeves
Looking for a fancy robe? How about this feather creation? The long design will stand out beautifully in your pre-wedding photos. You can also customize the color of your feathers. Did we say how fun is that?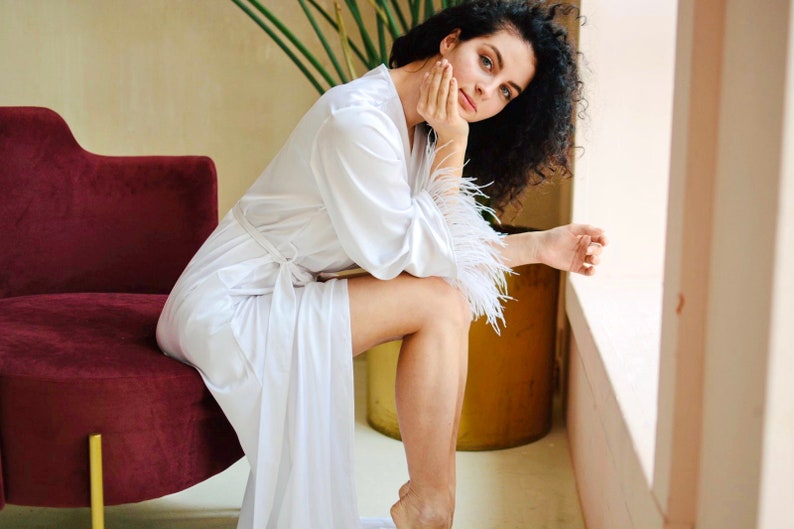 Silk Robe
This bridal robe is on the expensive side but it is super luxurious. It is also something that you may want to wear again and again so that you can get more bang for your buck. This silk bridal robe is machine washable too.
Retro Bridal Robes
For a bride who is looking for non-traditional bridal party robes, these retro "Babe" robes are for you. They are fun, colorful and modern. This design will surely make a statement in your photos.
Lace Satin Bridal Robes
Pretty pastel robes are a sight to behold. These lace robes are perfect for a wedding in spring. Made from soft satin, they are adorned with detailed lace trim at the sleeve and hem.
Velvet and Lace Bridal Robe
If your nuptial is in winter, you may want to go for these velvet robes. Not only is velvet a chic fabric choice for cold weather, but it will also help your bridal party to stay warm and they will thank you for this.