Black Friday sales are coming your way. Have you adequately prepared for it? Impulsively buying many items is the most common mistake many shoppers make, which often results in overspending. Retail therapy is one of the best stress-relievers, but we also need to make sure we don't add stress to our lives by spending carelessly. Here are the best shopping tips you to need to take note of when shopping for the best Black Friday sales for plus size shape wears:
1. Check out the Best Selling Section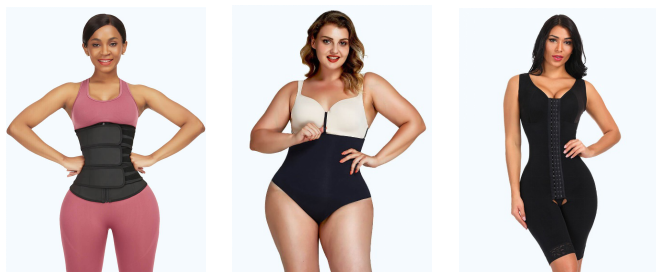 In browsing around for the best tummy control shapewear and bodysuit, many of us tend to use the filter button for the "prices" only. It's genuinely understandable as we want to save some bucks. Besides the price, you also have to consider the item's quality, making it essential to use the filter button for the costs and the bestselling items. The most popular items are usually the ones which can give your money its worth. You can get the best deal to utilize the "filter" and "sort by" buttons to sort the most popular items with the best prices.
2. Take Advantage of Coupon Codes
During Black Friday sales, one of the many things people tend to forget to take advantage of when they see those awesome deals are coupons! Since many Black Friday sales items automatically have discounts, shoppers tend to forget that they can still use coupon codes, especially for new users, and reach a certain amount of total upon checkout. Always make sure to utilize those coupon codes, which you can usually find on the front page of the website, or if you type the store name on Google, you should be able to find awesome coupons you can apply before checkout.
3. Have a Shopping List
Another great tip in shopping is to have a shopping list jotted in your notebook or sticky note. This way, when you're shopping online, you know where to go with the tons of deals that usually pours on shopping websites during Black Friday and Cyber Monday. It's very tempting to "add to cart" many items, especially if there are many excellent deals. However, it's always necessary to get the things you need from your list first to secure the products on your must-have list because a lot of items tend to get sold out quickly. Once you've guaranteed the things you needed to buy, then you can browse around and check other items out if you still have some bucks to spare for sale.
4. Compare Different Shopping Websites
The products on your "to buy" list are often on a lot of different websites. It's always necessary to prepare and plan for the actual Black Friday sale. This way, you won't waste time searching the net for the products you need at different websites. You can bookmark the websites where you found the items you want to buy. Then, during the Black Friday sale, go over your bookmarked websites and check which site offers the best deals!
5. Sign Up for Subscription Emails
Some sales are exclusively for those who are already subscribers to the websites` newsletters and ads. It won't hurt to subscribe to your favorite shopping websites via email, so you get exclusive coupon codes and invites. You might even get to take a sneak peek at the best Black Friday sales you'll ever get, especially if you've been wanting to buy that full-body shaper you've been longing to get for months!
6. Check Early for Deals and Discounts
Early birds eat the best worms. Some websites offer early deals ahead of Black Friday sale to prevent congestion on their websites. Sometimes, these early deals tend to be better than the actual Black Friday sales.
Some websites offer the best deal at certain times of the day. Checking before the actual sale happens allows you to plan out how you're going to get out of the Black Friday sales unscathed and still on budget.
7. Stay True to Your Size
One of the most popular "don't" shoppers do in buying body shapers during Black Friday sales is purchasing items that are not in their size. Since stocks tend to run low because many people are panic buying, don't get into the craze pool. Just because it's your most wanted body shaper, which is also on your shopping list, doesn't mean you have to get it even if it's a different size. You won't be able to use this product anyway.
No matter how fast the stocks are running low, don't get body shapers on a different size just because you've wanted that shapewear. Always think clearly and look for another option that has your size. This way, you won't end up with receiving shape wears on your door, which you can't use. Always stay true to your size; better shape wears will come your way at better deals.
8. Buy in just One Shop
To get the most fantastic deal, you should shop in just one online store. This way, you can save a lot of money on shipping fees simultaneously; most stores offer significant discounts for meeting specific total amounts upon checkout. You can get the best plus size shapewear in just one Shop and the other items you need in the same Shop to maximize coupon codes, shipping fees, and your time as well.
Shopping online can be as stressful as shopping in physical stores. With online shopping, you can plan, sit back, and wait for the fight for the best deal on shape wears. Make sure that you prepare for a massive sale. Don't forget to check out the bestselling section, save coupon codes, have a shopping list, compare different shopping websites, subscribe to exclusive newsletters, check for early sales, measure your body measurements, and buy from just one online shopping website. These shopping tips will help you to get the most fantastic deal on Black Friday.