Dresses are lovely clothing pieces we can wear throughout this season. However, having a lot just to look chic isn`t practical which is why here are a few simple dresses you can take inspiration from when it comes to investing in new ones:
Puffy Sleeved Dress
Puffy sleeves dresses are increasingly popular right now. This is mainly because dresses with puffy sleeves resemble vintage dresses with the modern twist in fashion.
A simple dress with puffy sleeves is an absolute must-have. You can wear this with a pair of sneakers depending on where you`ll be wearing it. This dress can be worn casually or to a more formal meet-up.
2. Maxi Dress
A maxi dress is a simple dress you can have in your wardrobe because this is easy to style at the same time looks dressy for casual wear.
This type of dress is something you would want to wear over and over again this season just because they`re cute, easy to wear, dressy and easy to style.
You can wear this with a pair of sneakers, sandals, or even heels.
Button up dresses looks really preppy and pretty. You can style this with white boots, a pair of sneakers, and platform heels. This type of dress will amp up your daily dresses.
You can find a variety of styles of button up dresses. There`s plaid, stitched, floral printed, and plain ones. Having a few pieces in your wardrobe can make staying fashionable easy with this style.
4. Tiered Dresses
Tiered dresses look like nightgowns and this is exactly why we love it! The design is loose and comfy which is an absolute advantage during the hot summer season.

This can also be tagged as smart casual if worn with the right accessories like boots, heels, a pair of square-toe sandals, clutch, and gold or silver jewelry.
5. Ruffle Mini Dresses
Ruffle mini dresses` ruffles, short length, and over-all cute design make this a pleasantly pretty dress which you can find a lot in most fashion stores with reasonable prices. You can wear this at the beach with your favorite flip flops or you can wear this to a romantic date night with a pair of boots and kimono.
6. Strapless Dresses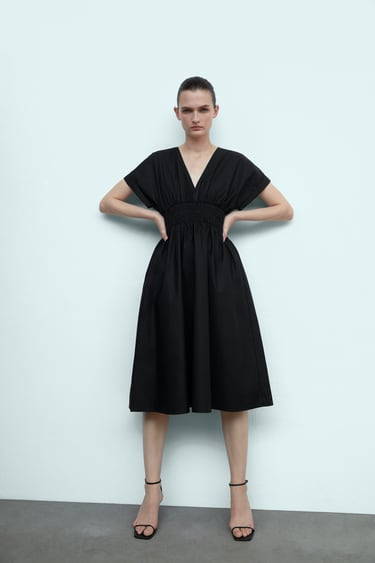 Strapless dresses are comfortable, flowy, and easy to wear. You can definitely style this with a pastel bucket hat and a pair of strappy sandals for that fresh summer look. You can also add dangling earrings to complete the look.
7. Sleeve Dresses
Sleeve dresses are probably one of the most versatile dresses which you can keep wearing this season. They can be worn in the office, date, school activities, or even in a coffee shop hanging out with your girls. This is a simple yet pretty dress that you can pair with a lot of different shoes like sneakers, sandals, pumps, and even platform heels.
In choosing dresses which you can always wear this season, always go for pieces which you can easily style using the items you already have in your wardrobe. This way, you won`t have to keep buying dresses. You just have to accessorize well to make it look as if you have different outfits every time you wear them.