Thanksgiving is already next month, it is a very special date that is celebrated at the end of November, usually together with the family, in order to thank all the graces received in the year.
Because it is a very important and big party in some houses, there is usually a get-together with a feast of food and even gifts, so today I'm going to give you 6 tips for Thanksgiving ideas that you need to know soon.
Cutlery Decoration
Bet on the decoration of cutlery under the dining table. There are several ways to arrange the cutlery, but look how cute this idea in the photo above is. As Thanksgiving takes place in the fall, the ideal is to make a decoration that has to do with the season, such as dry, orange and reddish leaves. It gives a touch of warmth and is very elegant. I'm sure your guests will find it very charming.
Table decorated with candles
Enjoy the table decor! A great idea is for you to invest in candles, who doesn't think a candlelight dinner is beautiful? Okay, it doesn't have to be with the dining room light off and only the candles lit, but even with the ambient light on, the glow of the candles makes the environment much more welcoming and relaxing. It looks very elegant, and gives more value to the table decoration.
If you can, use porcelain dishes, it will be the most beautiful thing in the world, in addition to being very chic. Use more refined cutlery and bodies to compose this whole set, and have a very fine and elegant Thanksgiving table.
Grape skewer
After dinner, you always order dessert, don't you? If you're out of ideas for what to serve as a sweet, how about skewers and grapes with dulce de leche and chestnuts? It's very simple and easy to make, cheap and everyone loves it. It's a delight! Even the kids will love it. In addition, it can serve to decorate the table as well.
And of course you can use this idea to do the same with other fruits, like strawberries with chocolate syrup and coconut flakes. You can use your imagination and make delicious combinations.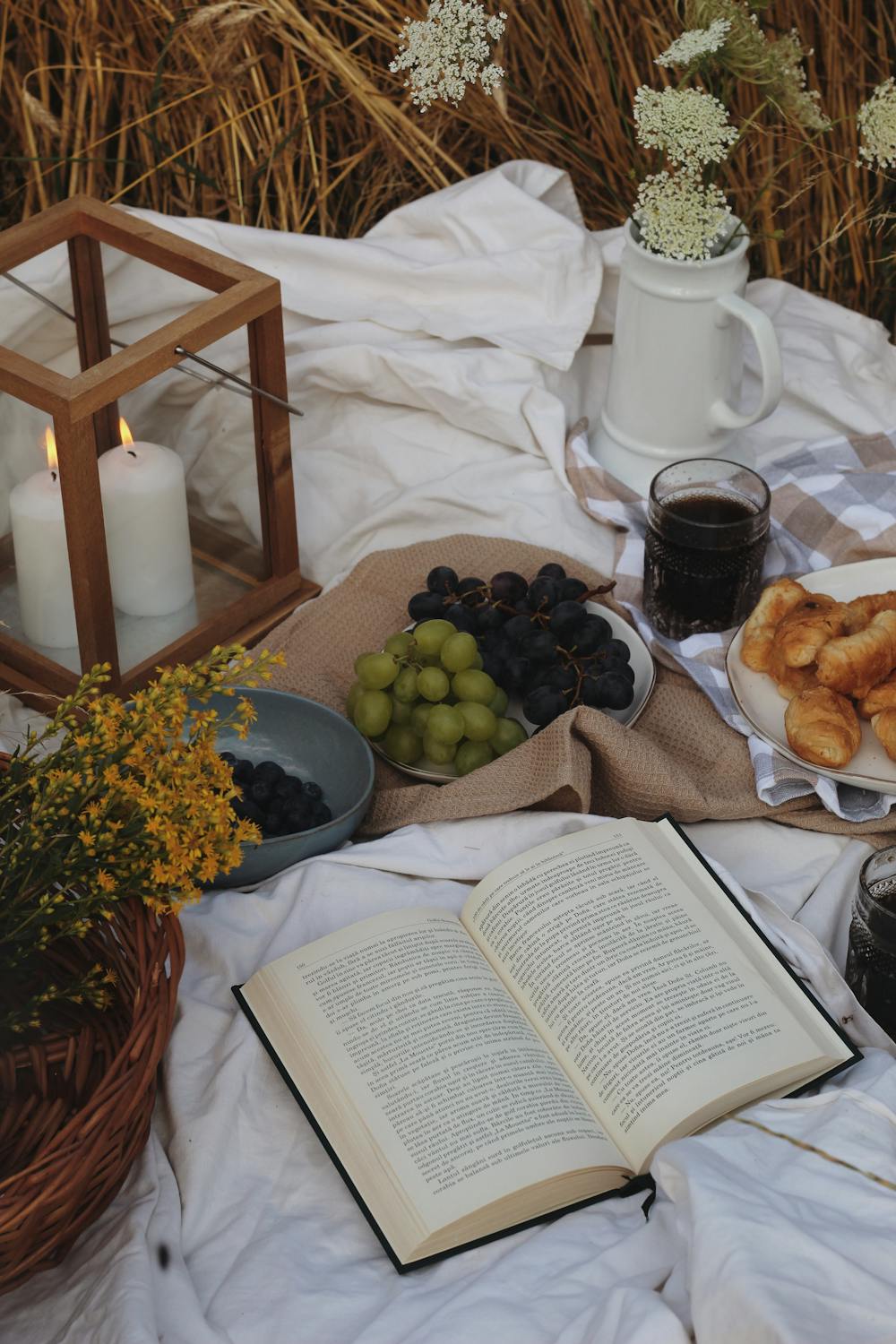 Decorated cookies
Speaking of children, another very easy tip is to decorate stuffed cookies, like the ones in the photo, for example. The symbol of Thanksgiving is the bird, and nothing fairer than making a chicken face. But of course you can decorate in other ways.
The children's snack will be much more fun and yummy, for sure they will find it super cool. You can use this same idea to decorate cookies, or any other kind of snack.
chicken hat
And to make the game more fun, make chicken hats for the kids. You will only need cardstock in the colors you want to make, scissors, and glue. There's no mystery, and you can invite the kids to do it together and have a good laugh.
Dinner in the backyard
Finally, have you ever thought about making Thanksgiving dinner in your backyard? If you have a rustic table in your backyard, even better! And don't forget to put lots of light bulbs in the decoration, because it looks very charming. Get inspired by the idea in the photo above, your guests and family will love it!