Many people think that winter fashion is boring and can't wait for warmer spring and summer days when our outfits tend to be more creative and colourful. It doesn't have to be that way! With a bit of imagination and a couple of useful styling tips, you can achieve an interesting winter outfit using one of the wardrobe basics – a traditional knitted sweater. Have a look at various ways how to wear it this winter.
1. With Ripped Jeans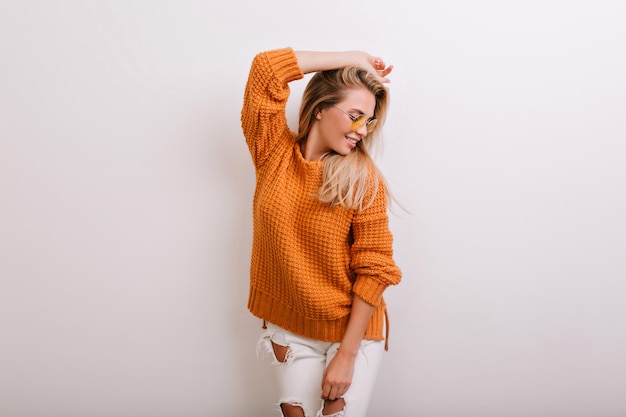 Add a splash of colour to your winter wardrobe and choose an oversized sweater in mustard, bright yellow or happy orange. While there are several ways of wearing it this season, we recommend two very different looks:
with black skinny jeans (go for a longer and looser cut)
with white or light blue boyfriend jeans (choose shorter version with puffy sleeves)
Add a pair of funky sunglasses and long stylish coat in black.
This youthful and fresh look is not only very easy to achieve, but also very comfortable to wear to most daily activities. Bright, vivid colour will keep your energy levels high throughout the day!
2. With a Maxi Dress
There is nothing more cosy and feminine than wearing a sweater with a long, floor- sweeping dress (or skirt). Styling ideas for this look are endless: from wearing calm neutral colours as pictured above to going for all-black outfit and playing with textures (think heavy knitted sweater and delicate tulle dress). You can also combine a plain sweater with printed dress or skirt to liven it up. You may try simple
geometric prints or colourful African patterns and colours. The choices are limitless so use your imagination and don't be afraid to experiment in front of the mirror to achieve a unique and stylish winter combination that you will love!
3. With a Mini Skirt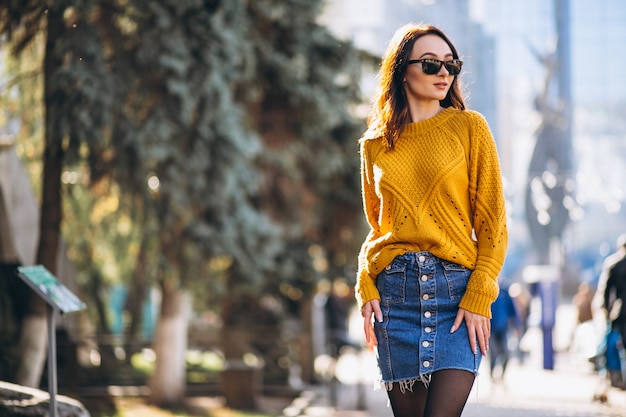 Another styling idea for this winter involves a warm sweater and a mini dress. This pretty combination can be worn with ultrafashionable over-the-knee boots and a longer blazer or coat. Depending on the style of your sweater and skirt, you can make this outfit suitable for both day and night. Go for a bold colour-blocking effect using vivid colours or stick to elegant pastels and light greys.
4. With Shorts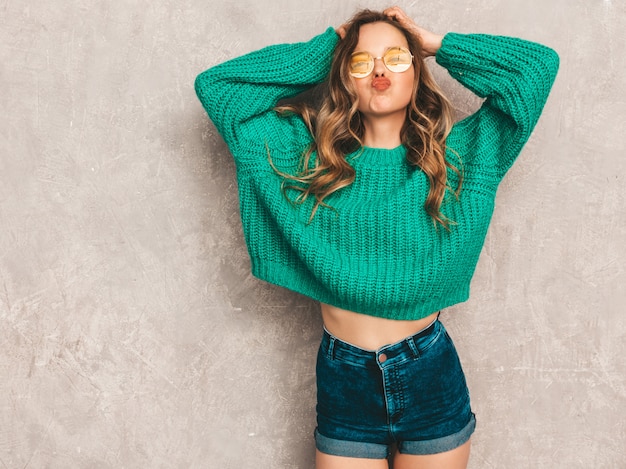 Last, but not least, try wearing your favourite sweater with shorts this season. Contrary to what you may think, this cool outfit is not only reserved for warmer days. Pay attention to choosing the right fabric – something that is much thicker than your summer shorts (wool blend will not only look great but will also keep you warm) and wear your shorts with tights and boots. Try to stick to a neutral colour palette and don't mix too many colours together.
As you can see winter clothes don't necessarily need to be dull and boring and by choosing the right colour palette and carefully combining various pieces together, you can achieve a truly fashionable outfit. Even something as simple and popular as a knitted sweater can be used in many creative ways and serve as a must-have item during wintertime and beyond.
To spice up your winter look, don't forget to choose the right accessories, such as hats, bags, scarves, and jewellery. Keep in mind that thick winter fabrics generally look better with bigger and bolder necklaces, so don't shy away from eye-catching, oversized jewellery this season. Have a look at the example below:
And while not every style of the sweater will look good with a necklace or long earrings, you can definitely wear your accessories with sexy off-the-shoulder styles that emphasise your neck, arms, and collar bone.
"The thing about investing in winter sweaters is that you really can never have enough. Next to the white T-shirt, they're one of the most versatile pieces in any closet. Wear a stylish knit with leggings if you're running an errand, or with a blazer and trousers should the occasion arise. Whether you're headed to the office, to the gym, or out to a safe, socially distanced dinner, there's a sweater for every occasion.
In 2020, as my colleagues have proven, sweaters have undoubtedly become the unofficial-official work-from-home uniform. They're comfortable enough for all-day wear but polished enough to provide style inspiration over Zoom." – Source: Vogue