Cropped tops have been in trend for quite a while now yet there are many reasons these still remain trendy. They`re easy to wear, comfortable, stylish, and bring out the confidence of every woman with their bodies.
There are many ways to style cropped tops and wearing them with jeans is definitely cute. Here are some of the ways you can complete your daily wear with cropped tops and a pair of jeans:
Smocked Crop Top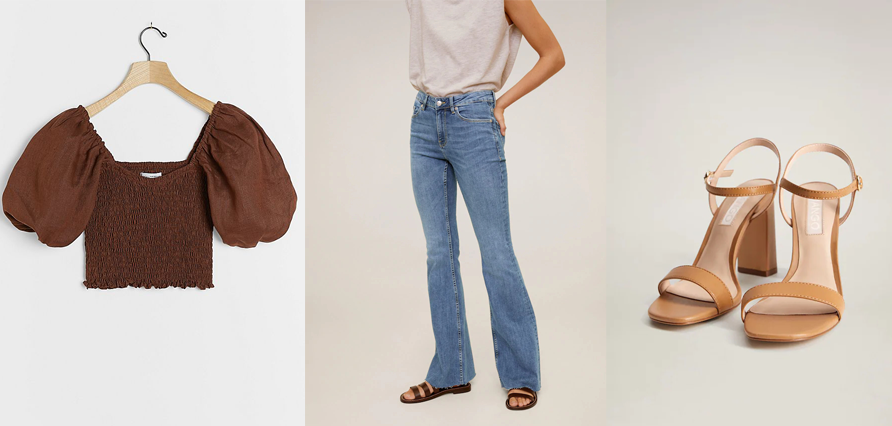 Smocked cropped tops definitely add a sweet touch to this type of top. It`s so cute and the outfit can be classically beautiful if paired with flared jeans and a pair of nude heel leather sandals.
Printed Cropped Top
Matching printed cropped top and bottoms are perfectly cute to wear for a date. Switching the skirt to a frayed ankle jean can make your entire look more fashionable with the trendy prints from the cropped top. You can complete the look with a pair of flats or nude lace-up sandals.
Bandeau Cropped Top with Blazer
A simple and plain cropped top is excellent for layering. Choosing plain tops and adding a long collared blazed can give you a classier and cute look. You can pair this with mid-rise or high waisted black jeans, and nude pumps for that boss girl vibe.
Sport the Look with a Comfy Cropped Top and Distressed Jeans
Cropped tops are best used to our advantage with the comfort it provides. You can choose activewear cropped tops to pair with distressed high-waisted jeans and running shoes for an easy to wear outfit. You can also add a varsity jacket or leather jacket to top off the look.
Cropped Tube Top
A cropped tube top can easily be styled with the right layers. You can add a cardigan, blazer, or leather jacket depending on how casual the occasion is. Pair this with distressed mom jeans and a pair of cool-looking shoes to complete the look will make dressing up daily easier.
Cropped tops are so charmingly cute to wear with jeans, whether you pair it with a mid-rise or high-rise, ripped or flared, black or blue, they usually go well together. Always accessorize appropriately with simple jewelry if you`ve done layering already or with statement jewelry pieces if you have a very simple outfit. Making sure that your accessories and clothes complement each other is very essential.