Wearing jumpsuits is one of the cheat sheets in making sure that you`re well-dressed with your daily wear. Jumpsuits are so easy to put on and accessorize that you`d want your entire wardrobe to be full of these.
Here are street style approved ways of wearing jumpsuits in the fall based on the different styles you can find in the market right now:
Slimming Jumpsuits
Slimming jumpsuits doesn`t really mean it`ll make you lose weight. It means that when you wear the jumpsuit, it`ll highlight the curves you`re most proud of. For example, a v-cut jumpsuit can make your face have the illusion of having a popular V-face. Vertical lines on your bottoms can also give the illusion of longer legs therefore perfect for girls who want to appear taller.
Denim Jumpsuit
A denim jumpsuit is definitely a street fashion approved jumpsuit you can easily strut around the streets while shopping or café hopping. It`s a cute ensemble you can easily put on and have in your outfit with a pair of wedges or high heeled boots. You can complement the entire look with a cute purse to balance the unique outfit.
Leisure Wide Leg Jumpsuit
Leopard prints have always been a popular choice. Wearing a leopard print jumpsuit can help you create a bolder yet charmingly beautiful street style outfit. You can wear this with a pair of faux suede ankle boots to complement its print. As an add-on, you can wear a simple necklace with your name on it or a bucket hat to complete the look.
Exquisitely Pretty in Black
An all-black jumpsuit is perfect to wear especially if you want to do some shopping or spend after work hours with friends. A flowy black jumpsuit with a metal buckle belt is a lovely office attire with a pair of high heels but if you have plans after work, switching the heels with a pair of sandals can easily tone down the entire look making it easier for you to spend the time after work more comfortably.
Bandeau Jumpsuit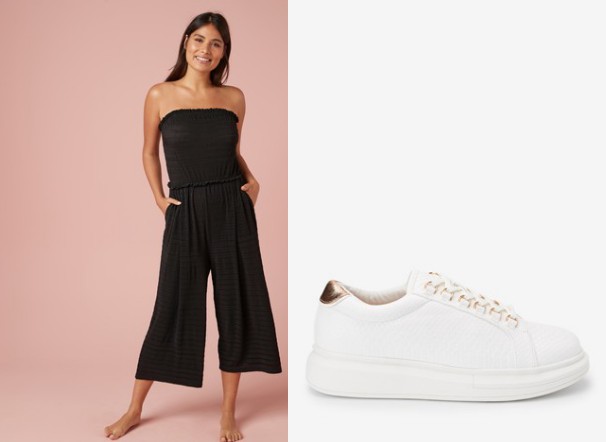 Wearing a bandeau jumpsuit is probably the name next to comfort. It`s easy to wear and the free-flowing bottoms must feel nice when being worn. Wear this with a pair of lace-up trainers or running shoes to make this one of the best street-style approved jumpsuit styles. Top off the look with a simple necklace or gold watch and off you go!
Jumpsuits are great clothing pieces to be a part of your entire wardrobe. It`s comfortable and easy to wear without compromising your sense of style. There are a bunch of styles, colors, and brands to choose from so choosing the excellent jumpsuits to be a part of your wardrobe is quite easy.