Want to look cute and trendy at the same time, wearing a skater dress is a cool option. It is designed as close-fitting for the top and gets widen at the bottom. The dress ends in the middle of the thighs that allows legs to show. There are various styles and designs are available for these dresses.
These dresses are easy to wear and provide better comfort. You can have Bardot sleeves or long sleeves with these dresses. There are also different fabric options available for you with these dresses, they can be made of polyester or synthetic or cotton and more. Not only adults but little girls also get many options to wear these dresses.
Off the shoulder skater dresses can be considered as one of the best skater dresses. A black colored mesh skater is one that you can make you look outstanding for the night outs. It has an elasticized shoulder neckline that matches awesomely with half sleeves. This is made very close fitting to the upper section of the body. You can also add a brown leather belt to add charms in your dressing.
The skater dress with a halter neck pattern is also very cool and can impress anybody. If you are thinking to get this skater dress then think of it in red color. There can also be some detailing design on the chest which will endeavor its beauty even more. You can also select the one that flowy skirt model. It generally has a zip closure at the back of the dress which remains hidden.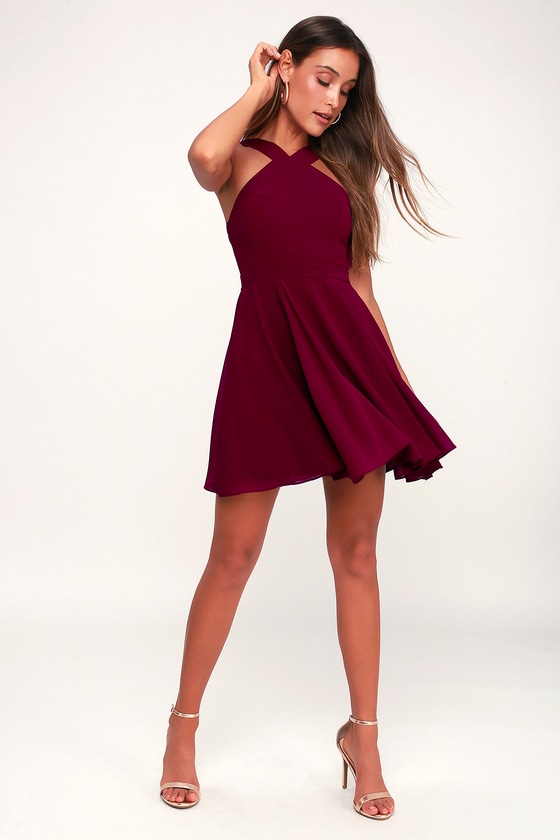 You might also like the multi-striped color patterns on the skater dress. You can have a yellow and white in combination or some other. These are ideal to wear for a day outing. These are generally made of polyester and best for summers. You can also prefer having a sleeveless multi-striped skater dress.
Skater dress can also be very good party wear. You can have a lot of varieties in this type of skater dress. You can try an off-shoulder one with dark color. You can also have an elliptical scale frock model for it. They are mostly made of cotton or rayon.
These skater dresses are ideal for every body type. You can get more flares in these dresses to get the cute girly look instantly. Choose a sleeveless dress in this category to enhance your look. Bright colors in the skater dress are very trending and give you the perfect casual look.