Being fashionable doesn`t mean that you have to have the best and most expensive clothes. Contrary to popular belief, being fashionable doesn`t equate to having luxurious and branded clothing pieces. Just having the right base clothing pieces will help you to build your outfit daily by mixing and matching complimentary clothing items. From having the most popular choices for basic clothing, you can create outfits that will fit your personality. Here are some of the best basic clothing items to have in your wardrobe:
1. White Tee
A white shirt, to begin with, is the easiest way to go when in doubt about what to wear. You can start off with your outfit from a blank canvass like a white top, then layer and accessorize from there.
2. Skater Dresses
Skater dresses are some of the cutest dresses to have. They can be worn in summer and spring as is and can be accessorized to be converted to fall and winter clothes.
When choosing skater dresses, always choose dresses with plain designs as they look classier. Plain skater dresses are easier to design and use with other complementary clothes and accessories.
If you want to use these dresses during fall and winter, you can simply throw on an oversized knit cardigan. You may accessorize with a knit beanie, a bucket bag, and a pair of boots.
3. Little Black Dress
A little black dress has always been a staple in a lot of fashionable ladies` closets simply because it`s versatile and a classic piece. A little black dress can save you from fashion emergencies where you need to dress up unexpectedly.
A simply V-Neck jacket dress can immediately look classy, and be worn in a more formal way by wearing a pair of black stilettos or pumps. You can also opt for a tweed mini dress that looks cute yet elegant at the same time. On the other hand, an eyelet dress can be worn for both casual and formal occasions depending on how you style it.
4. Structured Blazer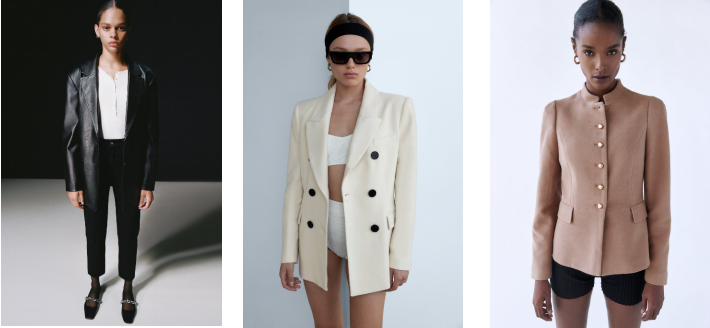 A well-structured blazer is your go-to when you`re in a hurry. Even when you`re wearing a plain top and bottoms, your outfit immediately becomes more dressed up with a really good blazer.
In choosing your staple blazer, always go for classic colors like black or white and neutral colors.
5. High-Waist Jeans
A pair of really good high waist jeans can go a long way. There are just so many ways you can wear your jeans. Whether you`re going for the daily office look, streetwear, or a feminine style, you can never go wrong with a nice pair of jeans.
You can opt to have a few pairs of jeans to rotate around the week, like a pair of black shaping high jeans, high ankle jeans, and ripped jeans.
6. Knee Length Skirts
Knee-length skirts are quite underrated. There are so many ways you look fabulous with knee-length skirts. Even if you`re going for a casual look, a simple leather pencil skirt paired with a plain top, and worn with a pair of white sneakers can instantly upgrade your casual wear.
In choosing which knee-length skirts to invest in, always go for neutral colors, and choose faux leather or suede, and A-Line skirts for a more modern look.
7. Cute Sweaters
Whether it`s the summer or winter, you can never go wrong with cute sweaters. Always choose sweaters that have fabrics that are not too thin nor too thick. This way, even if it`s the summer, you can still wear your sweater without sweating, and even if it`s the winter, you`ll still get a layer of protection from the col because the sweater isn`t too thin.
Sweaters don`t have to be ugly. You can invest in sweaters with sheer sleeves, unique designs, or cropped sweaters.
White shirts, skater dresses, little black dresses, blazers, high waist jeans, knee-length skirts, and cute sweaters are just some of the most popular basic clothing items to have specially if you don`t want to spend too much on luxurious statement pieces. These basic clothes will help you save a lot of money and effort in styling your daily outfit.