Long dresses are perfect for going out and they still become one of the popular fashion trends in 2020. It is comfortable to wear, and can also aim for a body cover effect. Following the trend why not look for a piece that makes you shine through midi dress for this year.
This time, I will introduce plenty of midi dresses that you can wear casually and prettily even on hot days. These kinds of midi dresses that I recommend below to you will lead the fashion trend in 2020. At least you should have one to add to your wardrobe.
1. Floral midi dress
The flower print is chic but refreshing, you can wear it daily without worrying about being an old fashion or whatever. The floral print is timeless so you can wear it at any season whether its for formal or nonformal occasion. Tighten your bags and favorite shoes to create a fashionable outfit. For the feet, it is very nice to select lace-up sandals with heels that match the color of the dress.

A small floral dress that looks pretty as a princess. This ruffle floral dress is perfect for attending formal occasions or parties. The ruffles parts add the cuteness and girly silhouette. Recommended for the days when you want to be extremely cute.
2. Lace / embroidered midi dress
The embroidered dress is attractive and gives a classical and elegant impression. The dress with a striking cutwork lace creates a neat and pretty dress. It's best to wear shoes or sandals with colors such as brown and black. A casual coordinate look is created, giving it a stylish look even without any accessories.
3. Puff sleeved midi dress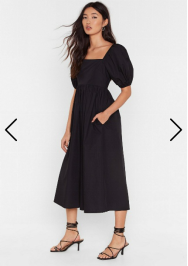 A cute dress with a retro feel. The puff sleeves on the shoulders and the tight waist make you look good and attractive. The girly atmosphere is perfect for women who want to show their femininity through midi dress. Accelerate your natural impression with flat ballet shoes or lace-up heels.
 4. Knitted midi dress
If you are looking for a slightly different outfit, try using the knitted dress that is comfy to wear around. You can match the dress with a belt for a slimming effect. Wear clear short heels around your feet for a comfortable look.