Maxi dress can give you a beautiful look. You can wear them occasionally or you can also have a casual look. Navy blue maxi dresses are very trending nowadays.
Leg slit dress
Leg slots are very popular among girls nowadays. These slits look perfect in the maxi dress. You can go through various neck cutouts that look perfect with the leg slit. The length of the slit can be chosen according to your preference. Some girls also go with the leg slit in the bodycon maxi dresses. These dresses are perfect for any event. Girls can also wear them to their prom night.
Glitter dress
If you want to go with the party glam look, you can get a blue maxi dress having glitters all over. With this glittery dress, you can rock any party that looks instantly. Spaghetti straps are very popular in these glittery dresses. You can choose the volume of the dress bottom according to your body type. Pair this dress with a statement handbag and high heels. Ombre blue shade in glitter dresses is also very popular among the girls.
Ruffled volume
If you are a plus-size woman and looking for an ideal maxi dress, ruffles in your dress will add extra beauty to it. These ruffles can hide away all the extra fat in your body and also give you a classy look. You can select the ruffled details at the upper half or at the bottom of the dress. These ruffles added to any maxi dress will give more detail and structure to it.
Printed maxi
Prints are always impressive and you can explore the collection of the trending prints. If you are going with the navy blue color, you can choose a lighter shade for the prints to give out the best look. Tiebacks are the most popular category in these printed dresses. A comfy summer look can be achieved with floral prints on it.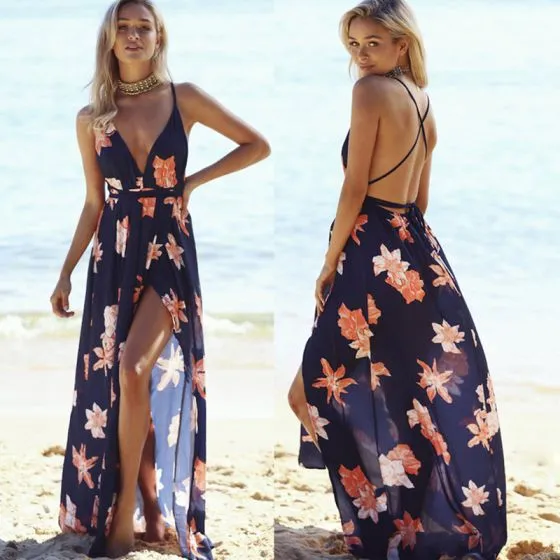 Volume sleeves
Volume sleeves are stylish and trending. You can look for the volume in short sleeves as well as in the full sleeves. Mesh volume sleeves are also very trending nowadays. Deep v neck cutout looks perfect with volume sleeves in a maxi dress. This dress also has embroidery shimmer work on the mesh.