A skirt is a versatile tube that makes the wearer sophisticated, feminine, stylish, and daring depending on the mode. Blazers is a perfect pair for a skirt because of its formal and stylish design and can go well with almost any bottom.
Daring style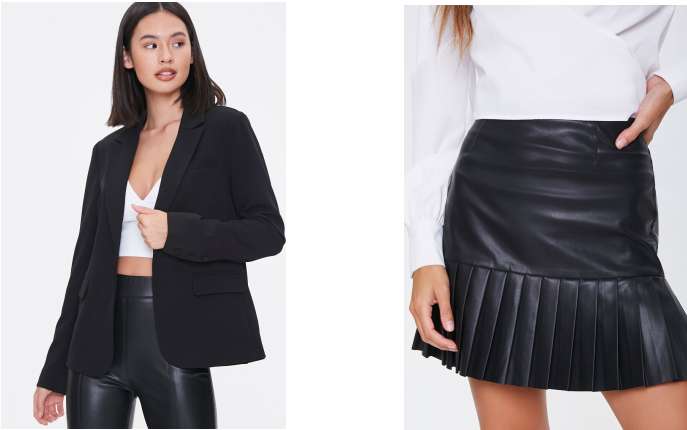 Be ahead of fashion by wearing this stylish buttoned blazer combining with a faux leather mini skirt and show off your style wear a crop top inside the blazer that will look daring and sexy. The goal of this look is to look sexy and fashionable at the same time. Given that blazers can be paired with almost anything still, nothing beats a mini skirt in combining it with a blazer that makes heads turn around with this getup   
Autumn attire
This is a perfect outfit when it's the autumn season because it will make you feel comfortable whatever the temperature is. Wearing this gives you a vibe of a chill and cool person. This can be worn on any occasions or any place, look fashionable and stylish with this getup.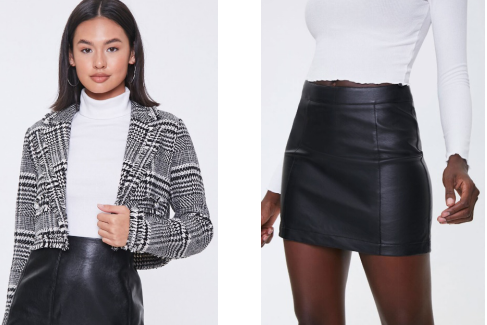 Power look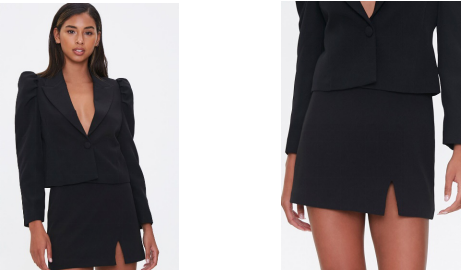 Show off your confidence in wearing this Shirred Peak Lapel Blazer and Vented Mini Skirt that really looks stylish and fashionable. Wearing this gives you a vibe of a confident, bold, and mature woman. Stand with this attire looking fashionable and gorgeous.  
Feminine look
Skirts can be comfy and feminine that look cute paired with a blouse, belt, and flats. It will look cuter if you add on some stylish blazers that give you a vibe of soft, fragile, and innocent.
Work it 
Look fashionable and stylish with this getup while working. It can be challenging to express your personal style at work while maintaining a serious professional image, but with this attire, you can look fashionable and office appropriate. Also, add some accessories to add a statement to bring out your inner fashion.
The skirt is trendy to women fashion that every woman has this on their wardrobe. The skirt is a tube-shaped garment hanging from the waist that looks very versatile and simple, but fashionable that you can almost match it with any outfit. Combined with a blazer that can look feminine, flirty, stylish, proper, and daring. Wearing this combo outfit can have a lot of styles and looks that allow you to wear it on any occasion. It can be casual or formal depending on the occasion.